Posted on Thursday, January 14, 2016 1:10 am from the Imperial Valley Press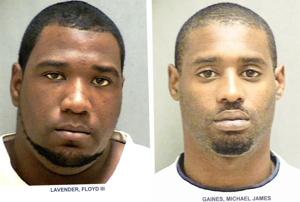 A county Superior Court judge on Monday granted a motion for a new trial for Floyd Lavender III and Michael Gaines, both of whom were convicted in 2010 of the 2003 murder of Palm Desert teenager Courtney Bowser.
In granting a new trial, Judge William Lehman ruled that the jurors had engaged in misconduct after discussing the fact that neither defendant testified at trial, and how their presumed guilt could be inferred from their refusal to testify, said Nicholas Rosenberg, an attorney who is currently representing Lavender.
By having briefly discussed the defendants' refusal to testify, the jurors had failed to follow jury instructions acknowledging the defendant's presumption of innocence during a criminal jury trial, as well as a defendant's constitutional right to remain silent, Rosenberg said.
Lehman had reached his decision Monday after having held evidentiary hearings over two days in September with 11 of the 12 original jurors, as well as prosecutors and defense attorneys, Rosenberg said.
Lehman's ruling caps five years of legal maneuvering that followed both defendants' May 2010 first-degree murder convictions, and subsequent sentencing to 25 years to life in prison.
Defense attorneys had initially filed an appeal of the conviction in 2012. The appeal was subsequently granted after the 4th Appellate District Court ruled that jury misconduct had occurred.
At the time, the county District Attorney's Office had argued that jurors had briefly discussed the defendants' decision to not testify, but that they were quickly admonished by the jury foreman to discard such a notion from entering into their deliberations.
The DA's Office then appealed the appellate court's ruling to the state Supreme Court, which in December 2014 directed the appellate court to vacate its decision and remand the case back to the trial court for an evidentiary hearing, according to the Supreme Court case documents.
However, following the Supreme Court's ruling, the appellate court stood by its initial ruling overturning the convictions and remanded a new trial, according to appellate court case documents.
Lavender and Gaines, both Valley natives who are also cousins, had been convicted in 2010 of torturing and murdering 13-year-old Bowser, whose body was discovered on Aug. 20, 2003 in a canal in Holtville. However, the body was not identified as Bowser until February 2006.
Attorneys for both defendants had argued during trial that Bowser's death was the result of a drug overdose and that the people that she had been using methamphetamine with during a four-day binge had panicked and disposed of her body.
Prosecutors had contended that Lavender and Gaines had tortured and murdered Bowser as retribution for her role in the disappearance of blank traveler's checks that had belonged to the Gaines.
Both defendants had also been convicted of torturing three other individuals along with Bowser during the early-morning hours of Aug. 15, 2003 in an attempt to recover the traveler's checks.
Gaines was last seen being escorted in handcuffs out of the apartment building where the torture took place by the defendants on Aug. 15, 2003, according to witness testimony.
It was not clear whether both lavender and Gaines would be released from custody following the granting of a new trial, Rosenberg said.
The DA's Office declined to comment on the granting of the motion for a new trial.
Imperial Valley Staff Writer Julio Morales can be reached at 760-337-3415 or at jmorales@ivpressonline.com